Do you want to start affiliate marketing but don't have much money to spare? Well, there are several ways to get started for free.
In this guide, we'll show you how to start affiliate marketing with no money and how to grow your business with just a little investment.
Follow our simple steps and you'll be on your way to a successful affiliate marketing business in no time!
Here is a little mind hack…
Most of the successful affiliate marketers you see around never started with a lot of money online. They started out on free WordPress blogs and upgraded with time. That's why they know the craft so well. It's not an overnight success.
How to Start Affiliate Marketing With No Money
TD; LR Summary
To start an affiliate business, you will need a domain name, web hosting package, and a web designer/developer.
Once the website and blog are in place, the next thing is to create content that talks about your services. You can always create content yourself
To get defined traffic as a new affiliate, write for free blogging platforms like Medium, Reddit, and Quora; create videos for YouTube; use social media platforms; direct message potential customers; or email them.
What is Affiliate Marketing?
Affiliate marketing is how affiliate marketers promote affiliate products and earn a commission whenever the leads they acquire turn into sales.
It's different from other business models because you are not handling the inventory or fulfillment of the service or goods. It's almost similar to drop shipping, except that there is no altering the item's price or service.

How much does it cost to start?
Like any other business, an affiliate business has a few startup costs if you want to start on the correct pitch.
You will need to have your blog, create unique and compelling content, and begin doing SEO to attract organic traffic.
This is what you will need and the cost.
Domain name
A domain name is the part of your website where people input into the search bar when searching. It's the primary URL address of your website.
Since it's an essential element of your online business success, it's a great idea to give it a lot of thought. It should be unique, simple, and reflects what your business entails.
There are a couple of websites where you can get a domain name. One of them is Namecheap or GoDaddy. I would recommend Namecheap because it's pretty affordable.
Check out the screenshot below.
As you can see, the .com extension is expensive compared to .co or .org because it's essential in ranking your website in search engines. For instance, it's much easier to rank a .com than a .uk or .au.
So, you need to part with about $10 for a .com domain related to your business.
Web hosting
Apart from a domain name, you will also need a web hosting package. You need a place to host all your files, such as images and videos.
A web host will offer you such services either as a shared server or a dedicated one. Always go for shared servers when you are starting out to save on cost.
There are several web hosting companies such as BlueHost, WP Engine, HostGator, and SiteGround. Each of them has several hosting packages to cater to different users.
I would advise you to begin with BlueHost or HostGator since it's the most affordable.
Check out BlueHost pricing packages: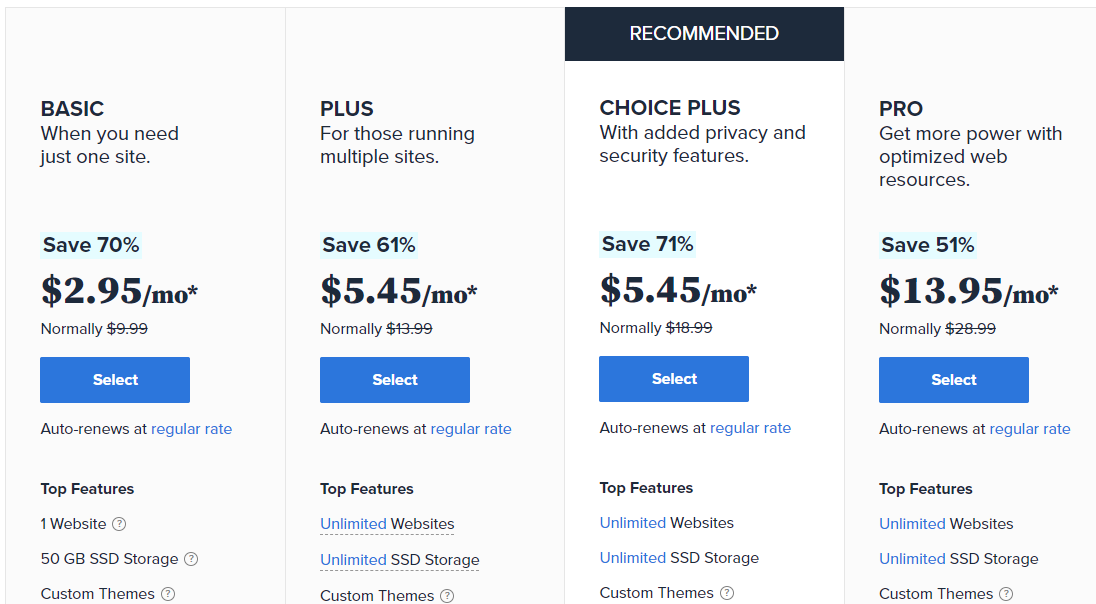 That means with a few bucks, you have a web hosting package for one year. There are other essential services such as web protection and domain privacy addons. So, have a slightly higher budget.
Web design and development
You will need a web designer/developer to design your website and ensure it has a flawless design. A poorly designed website leads to a poor user experience and low sales.
So, to increase sales, hire someone with web design experience and let him ensure the color themes, menus, and customer journey is all seamless.
You can hire a web designer on Fiver for as low as $5. They may charge slightly higher than that, though. So, negotiate for the best rate.
There are also sites such as Upwork and Freelancer.com with plenty of web designers. Check them out and hire the most appropriate person.
Affiliate program content creation and SEO
Once the website and blog are in place, the next thing is to create content that talks, walks, and sells your services.
You can always create content yourself, but if you choose to hire someone to do the job, then be willing to part with about $400 to $500 per month for content development, depending on the services.
An excellent place to hire a writer is on Upwork and some other sites. Upwork is one of the oldest and most trusted sites for freelance work.
Total for your affiliate marketing business
That means if you do the total cost of starting affiliate marketing, it can be:
Domain name = $10
Web hosting = about $50 per year
Web design and development = about $100
Content development = $400 per month
Thus the approximate total will be $560
It doesn't seem much, but it can be for a new affiliate marketer. It's always worth it to start something for free; you will learn more that way.
Start Affiliate Marketing with No Money – Beginner Steps
As you have seen, it will cost you a couple of 100 bucks to follow the mainstream path. However, you may be asking if there is a way we can do this for absolutely free.
Well, yes.
The essential element in affiliate marketing is getting defined traffic. And since you don't have money to spend on ads, I will tell you what I did to acquire free traffic that ultimately converted into sales.
1. Write for Free Blogging Platforms
One of the easiest ways to promote affiliate offers as a new affiliate is by creating content on free blogging sites. That is before you learn how to generate traffic on your own blog by leveraging search engine optimization.
There are a couple of free blogging sites, but the most popular ones are Medium, Reddit, and Quora. Reddit is like a social site where people share ideas and thoughts on topics that interest them.
The best thing about blogging for these sites is that they have traffic already. That means you just need to tap into that traffic by introducing new ideas and techniques for doing things.
Let's see how you can do affiliate marketing on some of these sites.
Medium
Medium is a free blogging and social platform where creators post different types of stories to their followers. That means you need a couple of followers who are going to read your stories.
The more followers you have, the more the chances of getting people to click on your affiliate links and hence sales.
But how do you gain enough followers?
I will advise you not to think about followers but about the value, you bring in. Yes, once you focus on creating valuable content, followers will come automatically.
Be consistent, too. Post at least thrice in a week or even more. If you publish a story every day, you will get twice as much traffic as someone posting three times a week.

Quora
It's also a great source of free traffic if you care to answer as many questions as possible. Alternatively, you can ask questions and provide unique and actionable answers.
Start off by creating a great profile. People only follow someone who they can trust. One of the best ways to make them trust you is to have a professional profile.
The next thing is to follow relevant topics. When setting up your profile, you will be asked to choose a few things that interest you the most. I would advise you to select at most three of such topics since the money is on the niche.
With all that set, create unique and valuable content that can ultimately attract readers and make them click on your affiliate links.
Yes, the key to being successful on Quora is to give unique and actionable insights and ensure affiliate links fit naturally.
2. Video platforms
Another excellent affiliate marketing hack is to leverage video platforms. There are several of them, but the best one is a YouTube channel.
YouTube has a user base of about 2,240 million users. That's good enough traffic for someone who wants to start affiliate marketing.
The key here is to create long, informative videos and do a little bit of YouTube SEO. Most people don't do YouTube SEO. So, if you can do it, then you will be ahead of the curve.
Choose a niche and begin creating a content plan for your videos. Know what to talk about and how you can talk about it.
And if you are thinking of the easiest way to start, then I would advise you to follow my path. I generally create review videos out of every post that you see here. That means you will be distributing your blog post on YouTube.
Create a lengthy video description, and remember to include a link to your product landing page. A great video thumbnail can also do wonders if you know how to create it.
3. Social media
Apart from YouTube, Quora, and Medium, you can also utilize social media platforms to attract potential customers to purchase your affiliate offers. These platforms act as free tools to promote products. So, there is no need of paying anything for leads.
It might take time for you to build a sizeable audience. But since you have nothing to lose and a lot to gain, isn't it worth a shot?
Let's talk about some of these platforms:
Twitter
It has a user base of about 340 million. 35% of the audience is mainly comprised of people aged between 25 and 34 years old. So, it is a great platform to promote any kind of affiliate offer you might be having.
Here are a few ways to make it on the platform as a new affiliate marketer:
Update your bio
The first thing is to work on your bio. Almost everyone reads your bio first before they connect with you. That means if you want to make them click the 'follow' button, the bio has to be compelling enough.
Regular tweeting
The second thing is to tweet regularly and consistently. If you are active on the platform, people will find a reason to connect and retweet your tweets.
Nobody follows someone who tweets once per week or twice per week. Tweet at least once per day when you are starting out.
Engage with your followers
The easiest way to make a connection is to go out and comment on others' tweets. They will be curious to find out who you are. And if they read your tweets and like them, they will follow you.
Include a link to your sales page in your bio to avoid getting banned. Alternatively, you can share it with your followers in their inboxes after making a connection.
Facebook
We all know this platform since it's one of the earliest social sites. It has a user base of about 2.80 billion monthly users. In addition to that, about 1.9 billion people log into the app every day to check on their friends, post status updates, and socialize.
56% of the total user base comprises males, with India being the largest market. So, if you are marketing men-related offers, you have a higher chance of success here.
But how do you do affiliate marketing on Facebook and tap into that vast customer base?
Create a Facebook profile and post regularly
The Facebook algorithm favors profiles that update fresh content regularly. With a complete profile and regular posts, you have a higher chance of attracting an audience and marketing your offers.
So, create a professional yet straightforward profile and begin sending requests to people who might be interested in your offers. You can talk to them via messenger afterward.
Join Facebook groups
Another trick here is to find Facebook groups. There are niche groups related to the offers you promote and could harbor plenty of customers.
For example, if you are promoting the keto diet, use the search bar and search for Facebook groups related to it.
After joining the groups, become active in those groups, and you will soon get a few messages from people asking a question or two; those will become your customers.
Create a group
After amassing an audience, it's time to create a private group and invite some of your connections to join. Once they are inside, it's easy to promote your offers to them and get referrals.
You can also invite any connection you get on your various groups to join your private group. It will act as a conversion funnel for you.
Those are some of the tricks of doing affiliate marketing on Facebook. Since they are all free, it's worth a shot.
Instagram
I always say Facebook is for outreach and recognition, while Instagram is meant for branding. Again, you can only make it here if you have a sizeable following. However, that doesn't mean you can't make it with a hundred followers.
The trick here is to create visually appealing graphics and have a compelling caption to go along. Canva has a free version. So, if you can learn a thing or two about graphic design, then Canva can come in handy.
You can also decide to go the Bashar J Katou way. He creates stories from his posts. And guess what? He makes six figures by merely selling his Amazon FBA course on Instagram.
The trick to how Instagram works is to be as unique and compelling as possible. And when I say unique, I mean from your posts, graphics, captions, hashtags, etc. Give prospects a reason to follow you and purchase from you. You can always input a link to your landing page on the bio.
TikTok
This is one of the fastest-growing social sites. By January 2022, the site had 1 billion monthly active users. That means in one year. It has surpassed Instagram, which has been there for more than five years.
Besides that, the audience is mainly made up of people aged between 20 to 50 years. That means they are all in the consumers' bracket.
How can you tap into this vast customer base?
It is easy to go viral on TikTok if you come up with something unique and exciting. You need to know that the main idea why people go to TikTok is to have fun. So, if you can blend that while promoting your affiliate offers, then you can easily make sales.
Post regularly, as well. You can do a duet with someone in your niche, tap into his audience, post videos of yourself reviewing products or offers, or use similar songs or sounds. Whichever the case, be persistent.
4. Direct messaging
If you already have a huge contact list on WhatsApp, why not turn them into customers. They may constitute some of your relatives and close friends, but you can't fail to get a few sales from them, too.
There is also Telegram. Are you in a few channels with a sizeable following? Try and fish for customers there. You never know; there will always be someone interested and might end up purchasing the product.
Utilize Snapchat, as well. It will always have a few prospects. And since it is free, you can always try it out.
5. Emailing
This is another free and most effective affiliate marketing technique. I know you might say email marketing requires money. Yes, it does. But for a start, you can do pretty well with free versions.
GetResponse has a free-forever plan; utilize it to build a list of up to 500 contacts. You may lack the automation feature, but you can do well with broadcasts.
But how do you build a mail list?
I wrote an in-depth post here detailing the exact techniques I use. You can start off with social media. Create a lead magnet and invite people to download it. They will have to input their emails to download.
FAQ Section
Let's answer some of the common questions regarding affiliate marketing here.
Conclusion
Now that you know how to start affiliate marketing with no money. It's all easy if you can master the three key elements; offer, channel, and have a good traffic source.
If you want to learn how to start an affiliate blog, sign up here and it will walk you through the entire process step-by-step. In just 21 days, you will have a fully functioning blog ready to make money for you.
And remember, if you ever get stuck or have any questions along the way, don't hesitate to reach out. I'm always happy to help fellow bloggers grow their businesses. Good luck!