Do you want to learn how to make more money through affiliate marketing?
Of course, who doesn't? That's why this guide is so important. It will teach you everything you need to know in order to start making a lot of money with affiliate SEO.
Imagine being able to quit your job and work from home doing something that you love. With the skills learned in this guide, that's definitely a possibility. You'll be able to achieve anything you set your mind to once you have the knowledge of SEO in affiliate sites.
Read this blog and get started on your journey to becoming an SEO master in affiliate marketing!
Let's dive right in.
Complete Guide to SEO Affiliate
TD; LR Summary
Mobile optimization is key for affiliates trying to increase their ranking.
Focusing too much on keywords instead of solutions will result in a loss of audience and, subsequently, Google ranking.
Inactive plugins and themes can slow down a website's loading time, so it is important to delete them.
Creating unique content is essential for search engines to rank a site highly.
Free web hosting solutions are limited in storage space and traffic capacity, so it is advised to use paid web hosting instead.
Where affiliates go wrong when it comes to SEO
Here are some of the things that affiliates get all wrong and hence decreasing their chances of ranking:
Ignoring mobile optimization on affiliate sites
There are 4.66 billion active users. Out of those, about 92.6% use mobile phones to access the internet. That means a huge chunk of your target audience uses mobile devices to research and find solutions to problems affecting them.
A site poorly optimized for mobile will lead to a negative user experience. Search engines will reduce your rankings if prospects spend less time on your site.

They focus on keywords instead of solutions
I'm not saying you shouldn't focus on keywords. Don't write for search, and forget that the main goal is to pass useful information to your audience. Most people focus too much on the keywords and forget the solution they intended to solve.
And when you focus on writing for search, you lose your audience, which is much more critical. But if your audiences like your content, Google will like your work and boost your rankings.
Forgetting to delete inactive plugins and themes
Do you have a few plugins that you deactivated and are still on your site? Well, you need to delete them because they will reduce the loading speed.
You see, inactive plugins will only increase the number of HTTP requests made to the server, reducing the loading time.
Not creating unique content
Search engines like unique and fresh content to show to their users. So, if you have such kind of content, you will soon have spiders crawling through your posts.
I know it is sometimes a daunting task to come up with unique ideas and thoughts, but it comes with a reward if you do so.
Using Free Web Hosting Solutions
There are a couple of free web hosting solutions such as WordPress and Blogger. These sites are easy to start and can be customized to some extent.
You can't add as many elements as you would on a premium host. You are also limited on traffic since the storage is small.
My best advice for you would have been Quora or Medium, but those can shut down, too. So, always opt for paid web hosting to act as the foundation for all your SEO efforts.
Tell me the best way for affiliate marketers to increase their search traffic
How can affiliates increase their search engine traffic and get more affiliate sales? Follow these tips to achieve success in affiliate marketing SEO.
1. Boost your content ROI with better and quality keyword research
The basics of an excellent search engine optimization (SEO) strategy is to research and come up with a list of long-tail keywords with a lot of search volumes that are more likely to rank in search results.
Taking a long-tail keyword research approach will help in the long run because they are easier to rank than short keywords.
If you research the right keywords and understand their search volume, you will be able to know precisely what to target and gain more effective traffic in the long run.
Use tools such as SEMrush and Longtail Pro for effective keyword research. These tools are paid for. However, they can give a good ROI on your organic traffic and, ultimately, sales.
The problem with using free tools is that they are not always accurate. And in some cases, they don't give enough data about a keyword. So, if you want in-depth analysis, stick to paid tools.
You can also spy on your competition to uncover rich keywords in which they are currently ranking. With those, you can create better and more compelling content relevant to a specific product.
2. Select an excellent web hosting solution for your affiliate marketing site
Even with good content and an excellent affiliate program, nothing is more essential to an affiliate than selecting the right web host.
So, before settling for any of them, here are a few things to consider:
Speed
Affiliate websites need to be fast to avoid losing customers. A web host will primarily determine the speed of your site.
If they have old and outdated servers, the speed will mostly be slow. Most web hosts have updated servers that use the latest technologies such as CDN to deliver content and increase speed for high conversion rates.
Nevertheless, some still have the old technologies. Ensure you check this before settling for a web host.
Storage
Storage is also essential when it comes to web hosting. Smaller storage space will reduce the speed of your site, while an ample space will speed it up.
Most web hosts have different packages with varied storage sizes. Choose one that can ensure your website loads fast. If your website will have heavy files, choose a storage space of more than 100GB or more. A smaller site will do well with 30GB or 50GB.

Reliability
A reliable web host is good for the overall growth of your affiliate site.
When a web host is not reliable, you will mostly have an offline website, which can reduce your rankings and ultimately reduce affiliate sales.
Most web hosts have at least a 99.98% uptime guarantee, but some don't. So, check out this before making that move because it is essential.
Security
A good web host should protect your site against malware and virus attacks. The distributed denial of service attack (DDoS attack) is another predominant security aspect to look out for.
There is also the issue of regularly backing up your site. Most web hosts offer this service for free or at a small fee. Ensure you have it with the web hosting plan you select.
Your site security matters. So, ask yourself if the web host is taking this aspect seriously. If it's not, drop that choice and look for other hosts.
3. Scale search visibility with Quora and Medium
I'm sure you have ever heard of Quora or Medium. Maybe you even have some answers there. These two are some of the most popular online forums where people share their thoughts and stories.
Google indexes about 9.8 million Quora pages. That's quite a lot of traffic. The website also receives over 300 million unique visitors every month. 75% of these visitors are from mobile devices.
It offers a huge opportunity and real value to the vast majority of successful online marketers in any industry. But how can you take advantage of this to improve your search engine results pages (SERP)?
Start off with creating a great profile. Make it a professional one centered on the main topics you want to promote.
You will then answer as many questions as you can uniquely and practically. Ensure your answers are poised towards making someone either follow you or click the link to your website.
Quora also has a high DA. That means any link you place that links back to your site will really help in the site's overall ranking.
Do the same for Medium. Create a profile, follow a couple of people, and publish unique and exciting stories that will make want to click on the links at the bottom.
4. Optimizing CTRs to boost rankings of your SEO affiliate programs
What is your page click-through rate from search results? Your page might be on the first or second page of search results but has a low click-through rate.
One of the things that people look at when deciding on the pages to visit is the title and the meta description.
That means if you find out that the click-through rate is low, you can work on these two, and it will be solved. People like interesting and unique titles. In addition to that, the meta description should capture the readers' attention and compel them to click on the link.
Look at these search results, for example: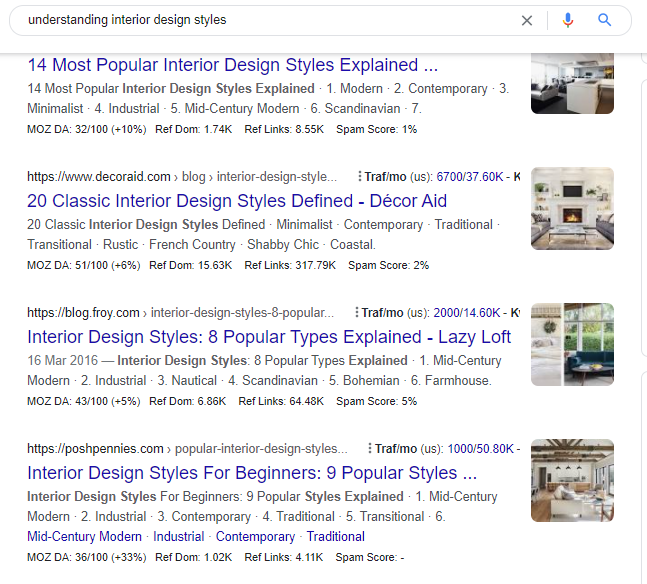 The titles and the Meta descriptions are poised to make you click on the link to the website to read more about interior design styles.
5. Boost your website loading speed
One of the essential elements in improving search engine traffic is website speed. The longer your site takes loading, the more customers you will lose.
The concentration span of the average web visitor is about 3 seconds. That means if your website doesn't load by then, you will lose that customer to your competitor who has optimized his site speed.
And the more customers you lose, the lower you go in search engine results. So, think about how you can boost your website speed.
Apart from having a good web host, there are also some aspects of your site that you can work on to improve the website's speed.
You see, if your site has large files, scripts, and videos, it will load slowly. So, work on removing those on your site. Don't have idle pictures in your gallery, too. They can only take so much space and reduce your site speed.

6. Revise and update your old content
The thing about search engine optimization is that it wants fresh content and ideas. That's why search rankings will always favor a site with new content over a site with old, outdated content.
It doesn't mean you have to write new blog posts. No. Just update a few elements of your posts, and it is done.
Here are a few tricks:
Increasing/reducing word count
Another trick here is to either increase or reduce old content. Adding 100 words or more can do great. Have at least 600 words on your post.
Again, you can work on updating the vocabulary, ensure the ideas are still in line with today's market needs and work on the headings and subheadings.
The trick here is to ensure your content is still serving the needs of your audience.

Update Alt images
I'm sure not all your posts have an alt text for every image you post into your blog post. It's sometimes easy to forget how essential that is towards the overall ranking of the blog post and site.
The alt text is what the search engine interprets. So, ensure you add it to your featured images in every post. The catch here is to include the target keywords in your alt text. It can be advantageous to visually impaired readers who rely on screen reading tools to interpret the image for them.
Shortening URLs
Most SEO services recommend short links. It's good for SEO and can't be marked as spam easily. In fact, SEO experts advise that a link with more than 75 characters is not suitable for SEO.
So, how can you update your old links and shorten them?
Don't do this if you are not familiar with 301 redirects because you could end up having a ton of broken inbound or outbound links.
It's an easy fix if you are using CMS software like WordPress. But if you are not, then take time to understand the aspect of 301 redirects.
Topics & Questions
Let's answer some of the common questions regarding SEO:

Conclusion
If you're looking to increase your search engine traffic as an affiliate marketer, there are a few key things you can do to boost your content ROI.
First, invest in better keyword research to find the right terms to target.
Second, select an excellent web hosting solution that will give you plenty of storage space and bandwidth for your needs.
And finally, scale your efforts by creating more unique content and using social media to broaden your reach and get more organic traffic.
If you want to learn how to start a 21 days blog challenge, sign up here and it will walk you through the entire process step-by-step. In just 21 days, you will have a fully functioning blog ready to make money for you.